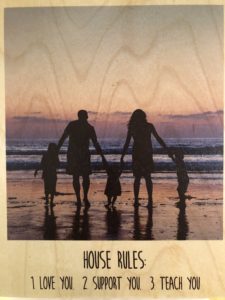 In our house, we teach three basic responsibilities that we, as parents, have to our kids:
Love you
Support you
Teach you
Ultimately, parenting really boils down to these three simple roles.
First, we must Love our children with all of our hearts. No matter who they are, what they do, what kind of person they become, whether they make good decisions or bad decisions, what kinds of friends they have, whether they pursue fruitful careers or struggling ones. We are their backstop, their ultimate arms to embrace when they have no one else. We accept them for the beautiful individuals they are and will become. We are there forever, as long as we live.
Second, we must Support our children to the best of our ability: financially, emotionally, intellectually. We have a responsibility to provide their basic needs that they cannot provide themselves: food, clothing, shelter, safety. We must support them in their pursuits, even if we do not always agree with them. We can share our perspective, of course, but then must get behind them, to see them spread their wings and fly.
Third, we must Teach our children as best we can. We are their initial teachers of right and wrong. We teach them how to grow, to listen, to love, to learn, and ultimately to teach themselves. We teach by instruction and by example. We teach them how to navigate the world, and how to interpret the world. At the core, we teach them what to strive for and how to thrive.
We have the above sign hanging in our home as a reminder of these rules.
By contrast, note the things that are not on the list:
Help you succeed
Help you win
Help you fall in love
Get you into college
Get you into the best college
Save you
Fix you
Mold you
Prune you
Change you
Julie Lythcott-Haims shared this beautiful description of parenting:
I have to admit something to you. I've got two kids I mentioned, Sawyer and Avery. They're teenagers. And once upon a time, I think I was treating my Sawyer and Avery like little bonsai trees — that I was going to carefully clip and prune and shape into some perfect form of a human that might just be perfect enough to warrant them admission to one of the most highly selective colleges.
But I've come to realize, after working with thousands of other people's kids — and raising two kids of my own, my kids aren't bonsai trees. They're wildflowers of an unknown genus and species — and it's my job to provide a nourishing environment, to strengthen them through chores and to love them so they can love others and receive love and the college, the major, the career, that's up to them. My job is not to make them become what I would have them become, but to support them in becoming their glorious selves.
We may not be perfect parents all the time, but remembering to love, support, and teach forms the rock that is our foundation.
Originally written: December 2016.  Republished: February 2018.