Have your parents ever written you a letter?  Do you remember what it said?  I still remember some of the letters my parents wrote me over the years.  So I wonder: How can we use the power of writing letters to create memories for our children?
I'm hoping and planning to write a letter to my family around the holidays each year.  To freeze time and share some thoughts about family and life.  Wouldn't it be amazing for your children to have a collection of annual letters when they grow up to be our age?  Once a year, a letter from Dad.
Here's how my letter started last year:
Dear Family,
Happy Holidays!  I write to all of you with hope and sincerity of memorializing in a letter what life was like for the McDuff Family this year.  As we grow older together, I hope that you might take this letter and future letters to read, reflect, and maybe even pass on to your own children one day as a history of our family.  Think of this letter as a time capsule to the past, something to remember and reflect upon years into the future.  Something that you may enjoy reading now, but may treasure even more when you're my age.
I wrote it, printed it, bound it, and read it to my family: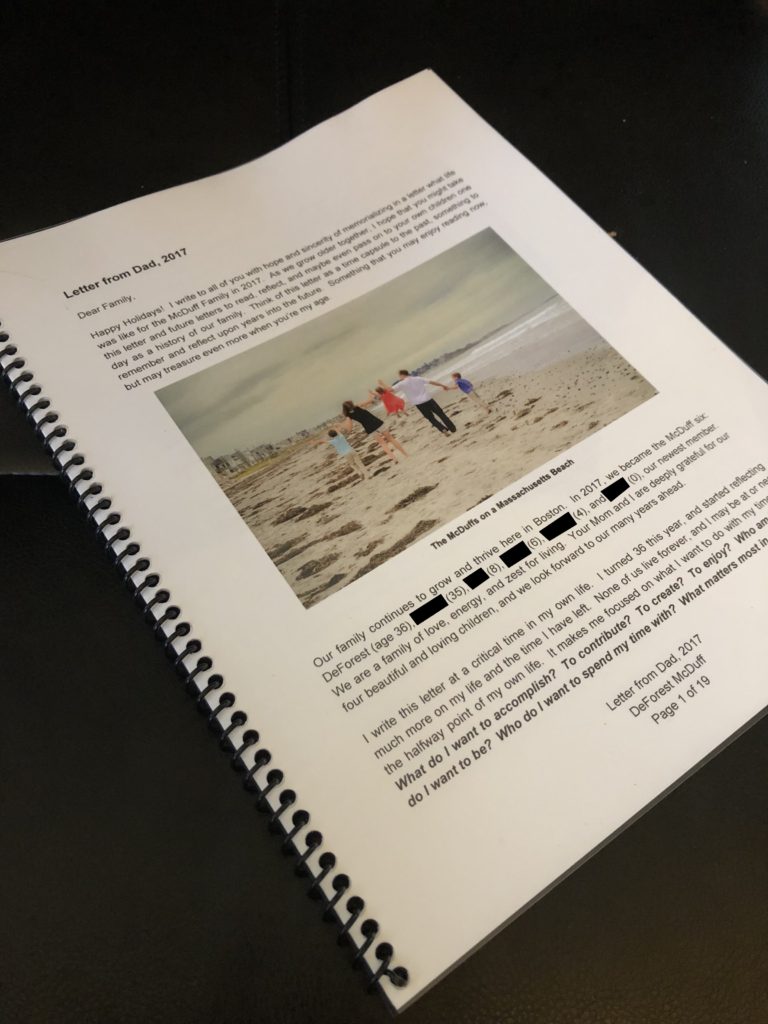 It doesn't have to be long.  Just a few pages to tell your family how you felt about the year.  Read it aloud by the fireplace.  I couldn't read mine without getting choked up a few times.  You can include pictures, stories, struggles, gratitude, whatever comes to mind for you.
If you write consistently over time, your family will have a record of who their Dad was and what you were thinking in each year of your life.  Eventually, the letters could become some of their most treasured memories of you.  An opportunity to hear your voice even after you're gone.
If you're still reading, consider writing a letter to your family for the holidays this year.  If it goes well, consider doing it every year.
Readers: Did you write your family a letter from Dad this year?  How did it go?  I'd love to hear from you!