Take a moment to imagine your kitchen before having kids.  It was probably spotless.  Crystal clean.  Glowing, even.  You could probably see your own reflection in the floor.
Now, take a look at your kitchen today.  "Yikes!  Yuck…"  At least, that's how it feels in our house sometimes.
We had a cleaning crew come to the house just this morning. We pay a small fortune to have the house cleaned weekly by three lovely ladies who come every Tuesday — a result of intense spousal negotiations after my wife started her residency program. The house stays clean for, oh, about 5 hours, right up until the kids get home from school.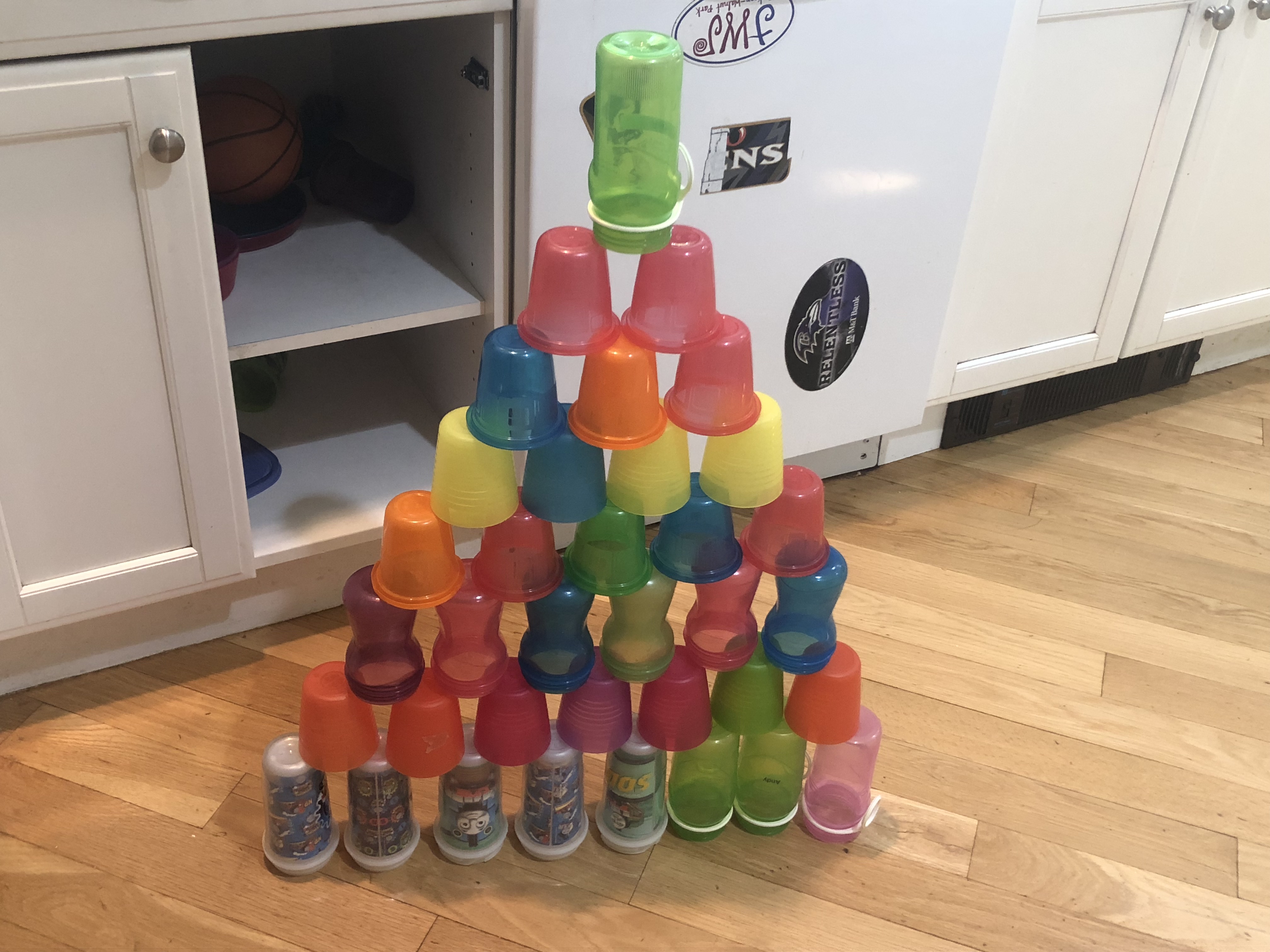 At least we can't fault them for lack of precision
---
Here's a shot of what our kitchen looked like just hours after it was all cleaned up, with labels below: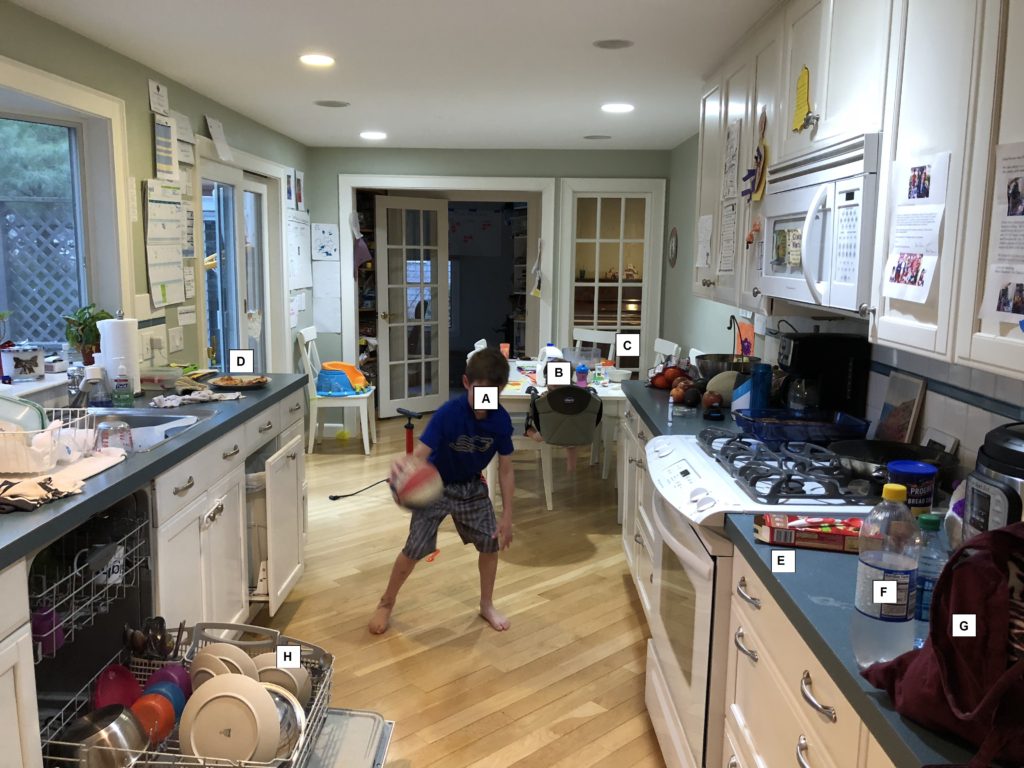 [A] Son dribbling basketball. Right in the middle of the kitchen, of course.  "We have a basketball hoop outside, ya know!!"
[B] Milk on the table.  Is anybody going to drink that?  Or are we just leaving it there to spoil?
[C] Messy table.  It seems that the family has declared the kitchen table as a good storage unit for "whatever we feel like putting there."
[D] Plate of pizza.  That's the perfect place for it, don't you think?  Is anybody going to eat that?  I'm guessing it has fewer than two bites.
[E] Boca burger box.  Hmmmm, that one's probably my fault.  But why not leave the box out, just in case we want to read the nutrition facts later?
[F] Half-used seltzer water.  We've left it on the counter, for easy access.
[G] Kids school bag.  Book bags also on the counter.  Seems convenient for everyone.  At least it will remind us of how much homework our kids forgot to do.
[H] Open dishwasher.  Hey, at least some of the dishes are going in the dishwasher!  A silver lining to an otherwise dark cloud.
---
I should have taken a picture of the kitchen just after it was cleaned.  I could have created one of those side-by-side activities from Highlights Magzine, where you try to identify the differences in the pictures — "Before and After."  Unfortunately, in this house, you might not even recognize them as the same scene.  It would be more like, "Who can identify the most differences in 10 seconds or less?"  "I got 36!"
Don't forget to view the kitchen from the other angle: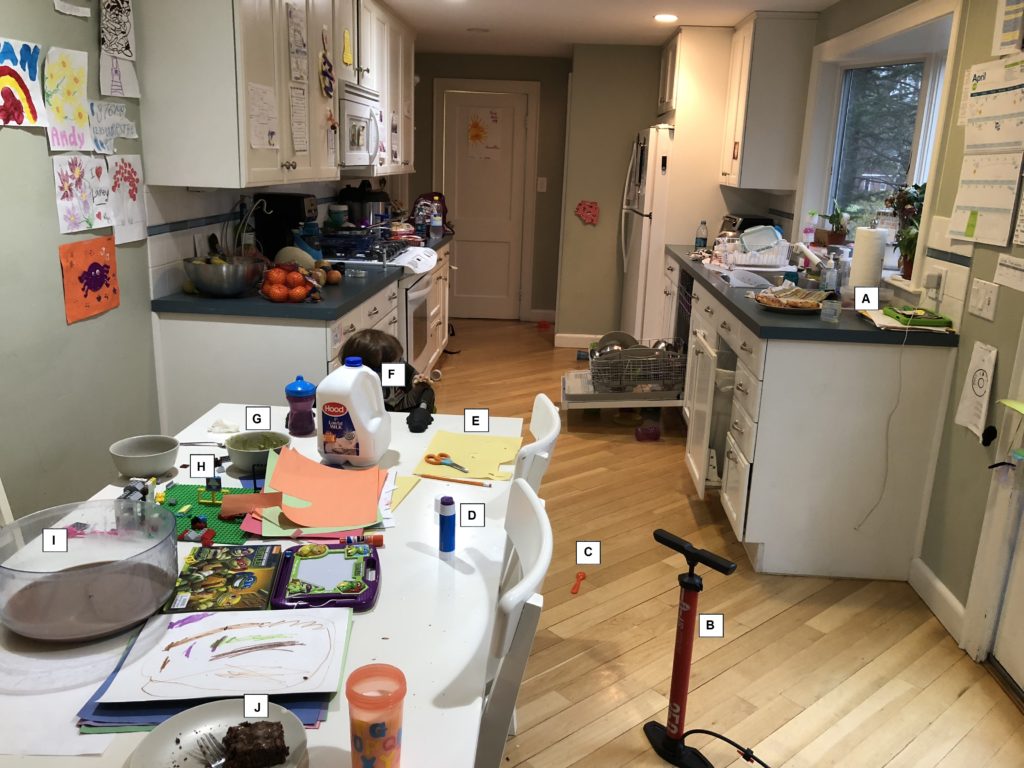 [A] Battery-dead LeapFrog tablet. I don't think that tablet has worked for months.  But somebody's trying to charge it anyway.
[B] Bike pump. Right in the middle of the kitchen.  What??  How did that even get there?  Was someone pumping up bike tires in the kitchen?  At the least the bike isn't in here too.
[C] Random spoon.  Of course, there's a random spoon on the floor.  I blame the one-year-old.
[D] Open glue stick.  Cap off, just in case we need to glue anything back together, like my brain after it explodes from all of this.
[E] Scissors and construction paper. Right next to the baby's seat.  "Perfect, right here next to the baby!"  You probably didn't even notice our one-year-old in the picture at all.  He's sitting in the table seat in the middle of the mess, right behind the milk.  Like "

Where's Waldo

," but with a real human child.
[F] Milk, other angle. Yes, it's still there. I walked right past it rather than put it back in the fridge.
[G] Half-eaten bowl of guacamole.  *Sigh*
[H] Lego set, half completed.  Legos??  Don't even get me started on Legos.  If I step on one more darn Lego with my bare feet, I swear I'm gonna…
[I] Our daughter's creation.  Our daughter likes to "cook," which basically means combining chocolate milk, drinkable yogurt, salt, various spices, and water into a giant bowl.  "Looks delicious, sweetie!  You try it first…"
[J] Half-eaten brownie.  Hey, at least there's some upside to all of this.  I'll probably eat it after writing this.  As well as the full glass of milk, right next to it.
[K] No basketball-dribbling son.  At least he's gone elsewhere.  For now…
Let's just say that we're not winning any awards for the cleanest house on the block.  Even when I try to keep it clean, which I actually do, it seems to get messier faster than I can clean it up.  It's like the children are following me around, making the clean path behind me dirty again.  I'd put us up head-to-head against Calvin and Hobbes any day of the week: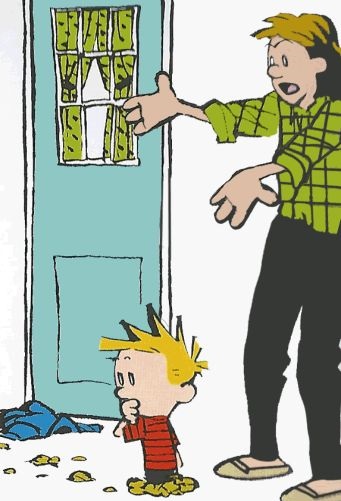 This would be funnier if it weren't so true
Source: Pinterest (DeAnna Anton)
We have come to accept a certain level of chaos and clutter in our house (our "Chaos House," as my oldest son likes to say), and, while it occasionally drives me bananas, I've learned to accept it (most of the time).  Here's an actual sign posted on our microwave: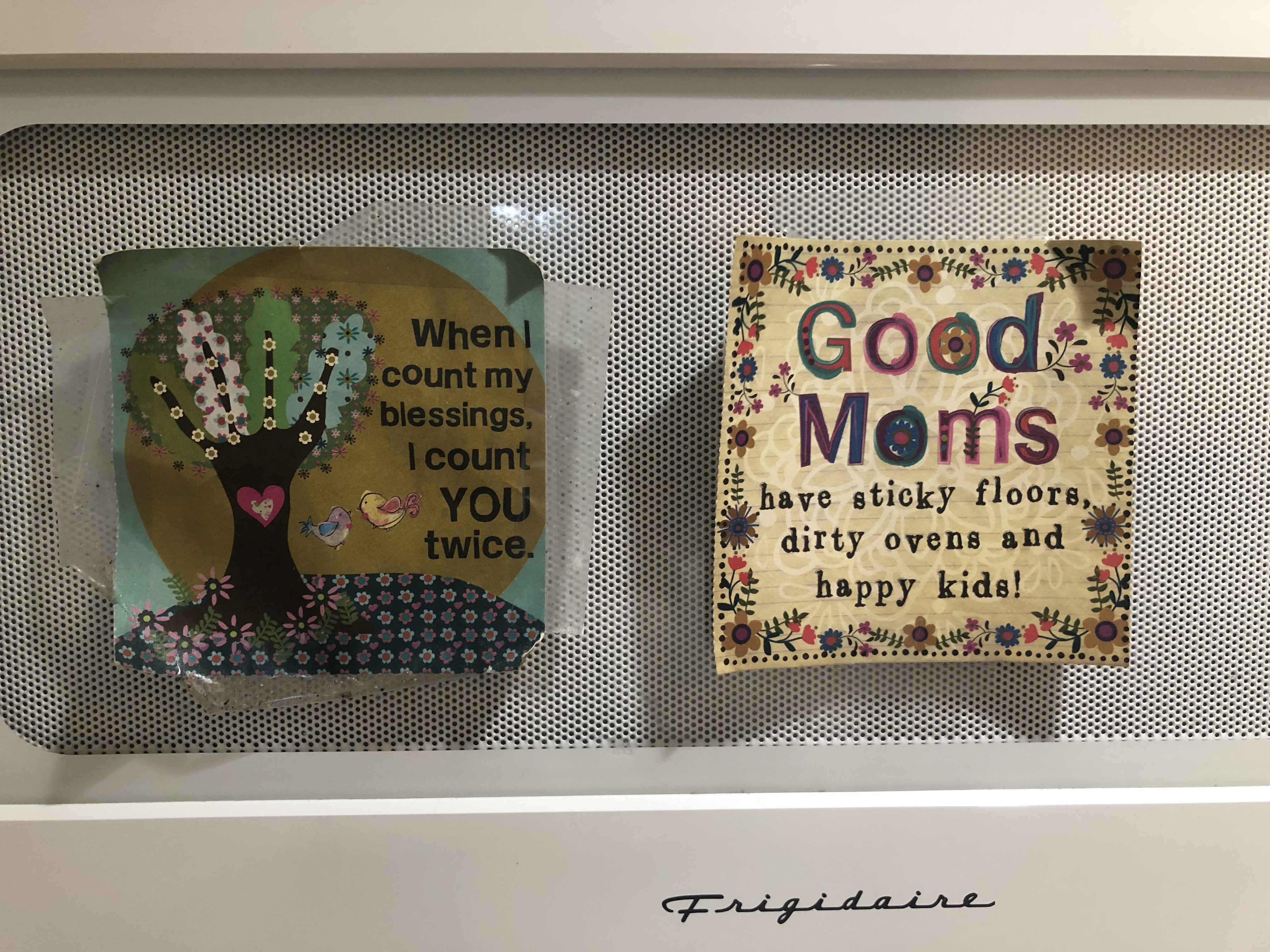 At least we've nailed the "sticky floors" and "dirty ovens" part
---
Here are some thoughts for dealing with a lack of cleanliness in a home full of young kids:
1. Laugh.  Don't take yourself too seriously.  Try to laugh about it.  If you can't laugh and embrace the chaos, you're going to have a hard time with parenting.
2. Let it go.  Let's face it, this battle is uphill both ways.  We're not going to get the house to be perfectly clean like we did when we were single or married without kids (which, for us, lasted all of about 9 months).  Let it go, and worry about other things.
3. Teach rather than blame.  Don't blame the kids for messy habits.  They're learning, and they don't understand why you need to keep the house so darn clean.  Instead, teach them to value cleanliness and to clean up their own messes.  The best progress we've made so far is when a child says something like (true story): "You know, I kind of like my room clean.  I'm gonna keep it that way."  And then the clouds opened up and God said, "That will last for about 1 day."
4. Put responsibility on the kids.  Let's face it: kids clean less than you do because they care about being dirty less than you do.  To counter this, I frequently put responsibility on the kids by threatening to confiscate or get rid of toys left on the floor.  But you have to be willing to follow through.  When I say, "If you leave that out, it's going in the trash!" they know I'm serious because I've trashed enough puzzles, Legos, and prized toys — sometimes temporarily, sometimes for good.  They take me seriously because I've followed through in the past.  The tears were painful, of course, but worth the credibility I now have when threatening to confiscate toys next time.
5. Get help.  If you're fortunate enough to afford it, it helps to find some cleaning support, especially if both parents work.  Once a month or every other week should be enough for most families.  My own mom used to constantly remind us to pick up after ourselves because, after all, "We don't have a maid in this family!!"  Unfortunately, I can't use this excuse on my kids because we do have maid service — or, at least, weekly cleaners.  Bottom line: cleaning support is low-hanging fruit to make your life better and keep you and your spouse happy, healthy, and productive in your careers.
---
Parting words: There's no easy answer to a cluttered house when you're handling four kids and two careers.  Let it go.  Pick your battles.  You can have a spotless kitchen again 18 years from now.
Current Project: "The Cups" in the McDuff Kitchen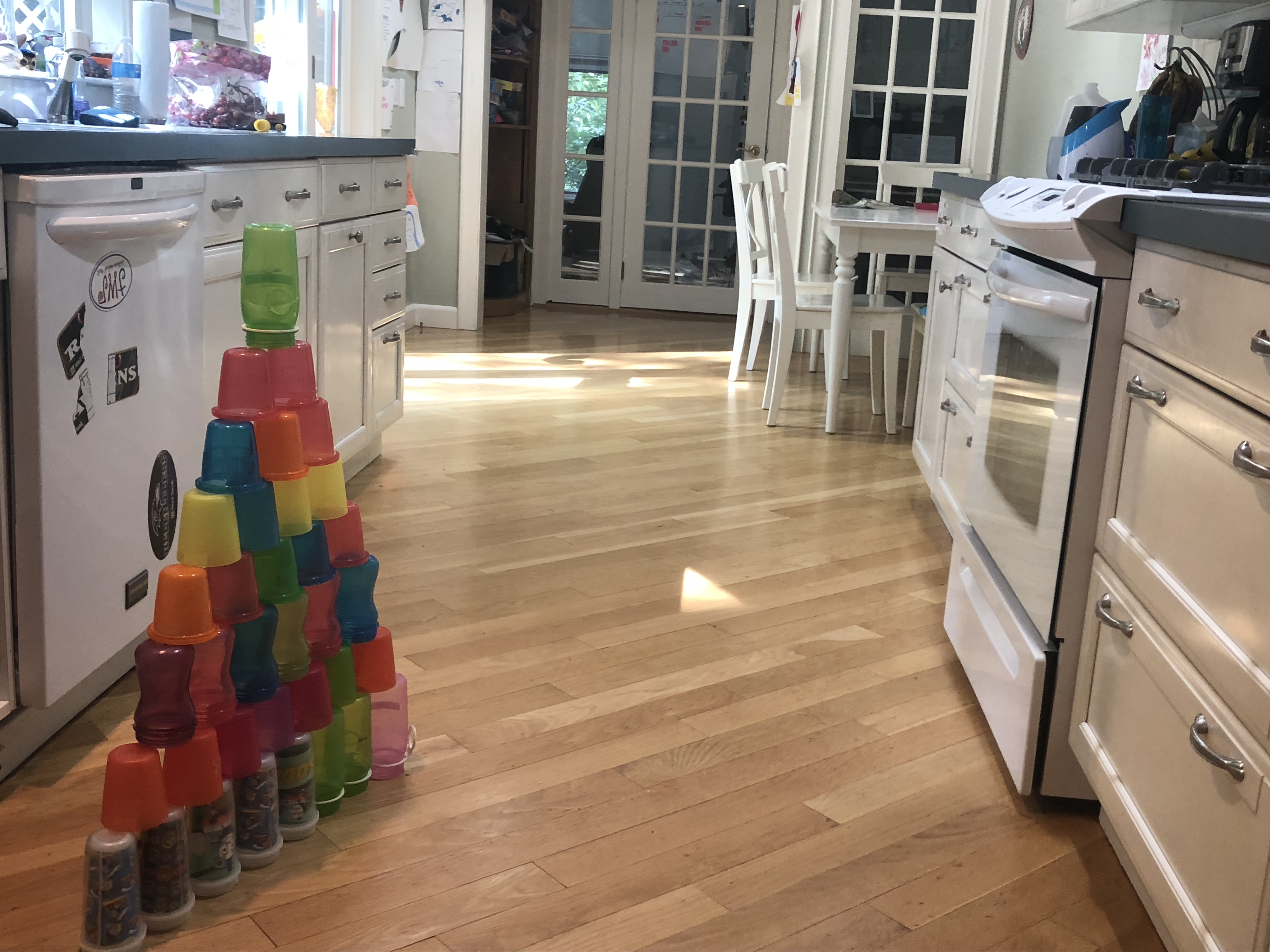 Future Project: "The Gates" in Central Park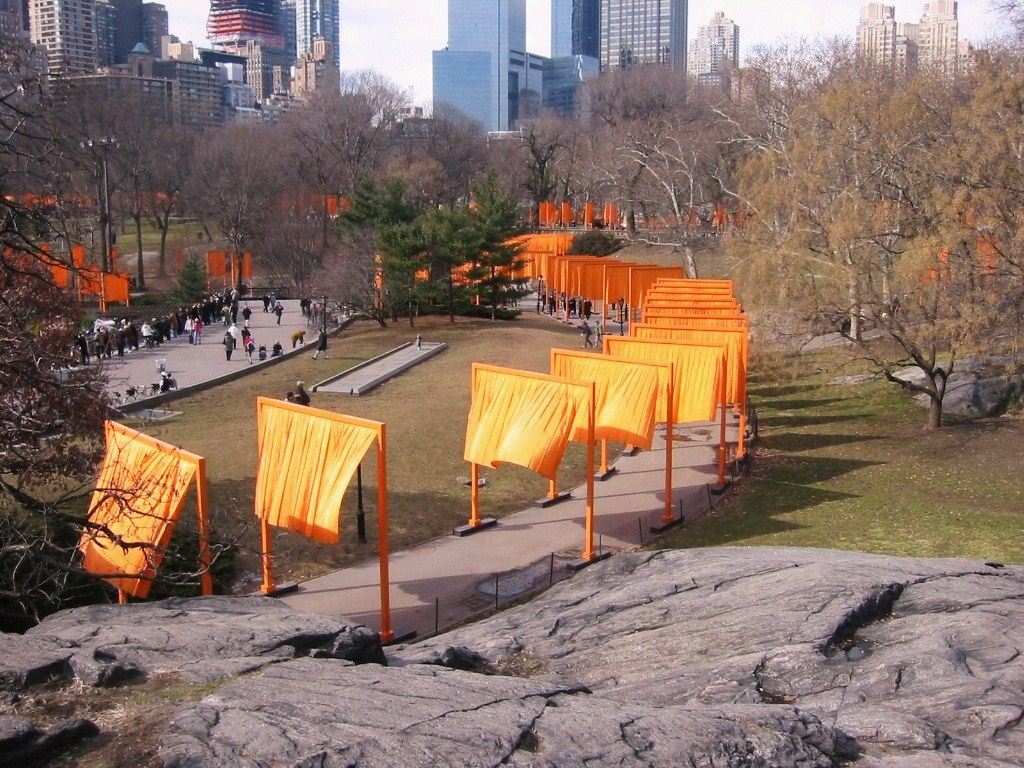 Source: Wikimedia Commons
Readers: How do you deal with mess in your house?  How strongly do you take on that battle, versus letting it go for other battles and priorities?
Related posts: