The holidays are here.  Have you written your Letter from Dad yet?  Don't worry, you still have time.
The holiday season is a time for joy and happiness and family, and also a time for reflection.  Amidst all the gift giving and holiday cheer, I hope you'll consider writing a letter to your family.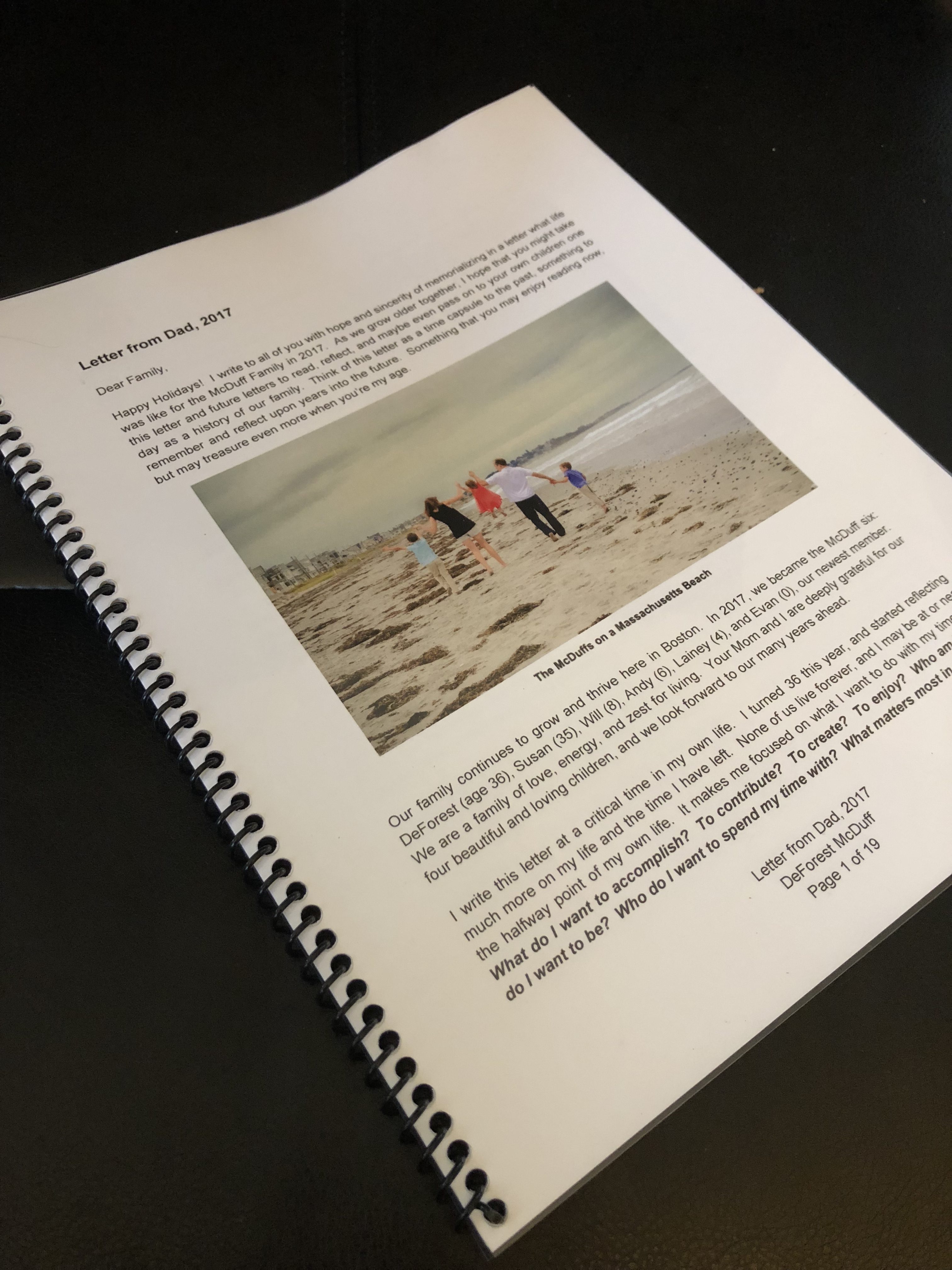 Once a year, a letter from Dad
---
Your Letter from Dad
The idea with Letters from Dad is to write a letter to your family each year around the holidays.  To freeze time and share some thoughts about family and life.  Wouldn't it be amazing for your children to have a collection of annual letters from you when they grow up to be your age?  Once a year, a letter from Dad.
It doesn't have to be long.  Just a few pages to tell your family how you felt about the year.  Read it aloud by the fireplace.  I couldn't read mine last year without getting choked up a few times.  You can include pictures, stories, struggles, gratitude, whatever comes to mind for you.
If you write consistently over time, your family will have a record of who you were and what you were thinking about in each year of your life.  Eventually, the letters could become some of their most treasured memories of you.  An opportunity to hear your voice even after you're gone.
One parent I know set up email addresses for her kids, and she regularly writes them emails as they're growing up.  Another parent I know keeps an Evernote file where he records notes for his kids.  For me, I'm aiming for an annual letter — one year down, 40 to go.
---
A Template For Your Letter
"Gee, DeForest, I'd really like to write a letter to my family, but I don't know where to begin.  What would it say?  What would it look like?  How would I even start?"  Look no further.  Your excuses are no good here.
Here is a template you can use, in Google Docs so that you can save out a copy for your own letter:
EconDad Tool: Letter from Dad Template
(also in MS Word, PDF)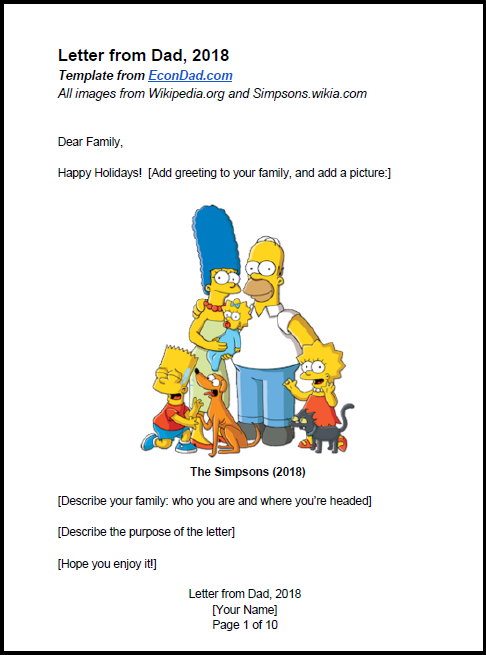 If Homer Simpson can write his family
a Letter from Dad, then you can too
In the template, I've outlined 10 potential topics to write about, and have added some ideas within each topic.  It's your letter, of course, so feel free to use as much or as little of the template as you like:
Cover Page
Your Family in 2018
Your Life
Your Wife
Kid #1
Kid #2
Kid #3
Your Life at Age [_]
Our World in 2018
Final Thoughts
---
My Letter From Dad
I'm about halfway through writing my Letter from Dad this year.  I've drafted a few pages, outlined a few more.  I've been adding notes to my Google Doc here and there when I get inspired or have ideas.  I can't wait to make more progress.
Last year, I couldn't wait to read it.  I read it to my family a week before Christmas.  This year, I'm going to wait for Christmas Eve or Christmas Day, when I have the whole family all to myself.
It took courage to read the letter, even to my own family.  It can be emotional to make yourself vulnerable to the people you love most.  My wife liked it, I think.  My oldest son told me it was the best thing he ever heard.  I never did get to read it to my second son, because he got mad me for the picture I chose for him.  I changed his picture, but I never got around to reading it to him again.  This year, I'm going to get his approval first.
I'm keeping most of my letters from Dad personal and not widely shared.  They are the one bit of focused writing each year for my family's eyes only.   That said, here are a few excerpts from my 2017 letter, in the hopes of inspiring others to write their own:
"Our family had a wonderful year in 2017.  We live in New England, 6 miles west of Boston in a town called Newton.  I never thought that Susan and I would move back to the Northeast — after Princeton, we swore we would never come back — but here we are.  We enjoy summers, tolerate winters (with some fun in the snow!), and dream about California…"
"We are a team of optimists at heart.  Our family mantra — "McDuffs can do anything!" — runs deeply in the family.  I've seen your Mom accomplish enough for two lifetimes already. I feel that, with enough focus and discipline, I have been able to reach almost any goal I set my mind to.  And I watch you kids with the wonder, ability, and determination to take life wherever you want to take it. We truly do embody a can-do-anything attitude. I hope you carry this idea with you for a lifetime, even long after Mom and I are gone…"
"It has hit me that I may have already hit the halfway mark of my life — none of us are guaranteed a long life and I've given more thought to the meaning behind mine.  Have I lived it the way I imagined?  Am I living according to my values, my dreams, the life I've wanted?  Those are hard questions to face as I transition from youth to middle age.  I no longer have the blind hopefulness and sense of eternity I once had. But it's been a positive development — time has *slowed down* for me this year.  I enjoy each day more than I did before. I think more about my purpose and meaning…"
"At every stage of life, I continue to ask some of the most basic questions about what it means to be human: What does it mean to live a good life?  Or a meaningful life? Or a beautiful life?  How do we want to spend our limited time on Earth?  I have always been fascinated with these questions, and have spent more time thinking about them this year than ever before.  Like many others my age, I am still trying to discover what I value and why I exist…"
"With that, I am signing off for 2017.  May our 2018 be filled with love, laughter, adventure, and a sense of fun.  As you know, McDuffs Can Do Anything!
Love, Dad"
---
Final Thoughts
If you're still reading, I hope you consider writing a letter to your family for the holidays this year. If it goes well, consider doing it every year. For now, commit to just one letter this year and see how it goes.  You won't regret it.
PS. Don't forget the template:
EconDad Tool: Letter from Dad Template
Readers: Are you planning to write a Letter from Dad this year?  If and when you do, would you be willing to share a few paragraphs for posting (anonymously) on EconDad?  I'd love to show others how powerful these can be.  I hope you consider sending a snippet my way!
---
Image source: Wikipedia, The Simpsons, https://en.wikipedia.org/wiki/Simpson_family.